An employee assembles customer orders at the Jet.com Inc. fulfillment center on Cyber Monday in Kansas City, Kansas, U.S., on Monday, Nov. 30, 2015. Online sales on Cyber Monday may rise at least 18 percent from a year earlier, slower growth than during the holiday weekend, as consumers start their Internet shopping earlier, according to forecasts by International Business Machines Corp. Photographer: Daniel Acker/Bloomberg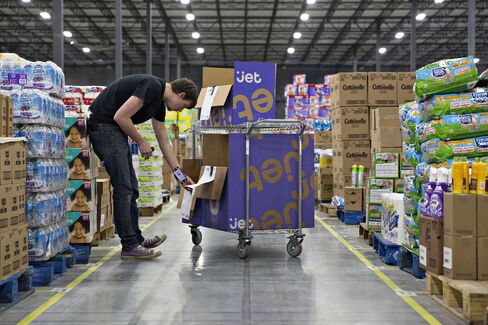 Wal-Mart Stores Inc. agreed to buy e-commerce startup Jet.com Inc. for about $3.3 billion and put founder Marc Lore in charge of the combined company's online operations, marking the retail giant's strongest bid yet to compete with e-commerce leader Amazon.com Inc.
The deal includes $3 billion in cash and $300 million in shares that will be paid over time, the world's largest retailer said Monday in a statement. With Lore taking over all of Wal-Mart's online business, the retailer's current head of e-commerce, Neil Ashe, will step down.
The move is Wal-Mart's biggest attempt to date to chase down Amazon, which has dominated e-commerce in much the same way that Wal-Mart has ruled brick-and-mortar retail. Wal-Mart had spent billions expanding its online operation, including hiring thousands of workers, opening two offices in Silicon Valley, and building large e-commerce distribution centers. It also started a subscription service similar to Amazon Prime, at half the price, but still trails the e-commerce behemoth in online sales. Jet.com gives Wal-Mart a website that achieved a $1 billion gross merchandise run rate in a little more than a year and is adding 400,000 shoppers monthly.
"Wal-Mart has definitely put its stake in the ground saying, 'We're going to be winning in e-commerce,'" said Joseph Feldman, an analyst at Telsey Advisory Group. "Amazon should be concerned about what Wal-Mart is doing."
Want to publish your own articles on DistilINFO Publications?
Send us an email, we will get in touch with you.
Shares of Bentonville, Arkansas-based Wal-Mart fell 0.6 percent to $73.35 at 2:56 p.m. in New York. The stock had gained 20 percent this year through the end of last week. Seattle-based Amazon slipped 0.1 percent to $765.01.
Gain Sharing
Jet.com has distinguished itself in e-commerce through "gain sharing," luring buyers to add items to their orders to reduce shipping costs, and to pay with debit instead of credit cards to reduce transaction fees. Traditional store-based mass retailers such as Wal-Mart, Target Corp. and Costco Wholesale Corp. have been struggling to fend off Amazon's momentum in online shopping.
The deal gives Wal-Mart control over Jet.com's proprietary technology and its customer database. Wal-Mart's online sales were about $14 billion last year, 14 percent of Amazon's product and service revenues of $99 billion. Wal-Mart Chief Executive Officer Doug McMillon said last month that the company's online operation has taken too long to grow.
Wal-Mart and Hoboken, New Jersey-based Jet will maintain distinct brands, with Wal-Mart focusing on its strategy of offering goods at low prices every day, the companies said. Jet will continue providing a more "curated" assortment of products through a more unique customer experience.
Allen & Co. and JPMorgan Chase & Co. served as Wal-Mart's financial advisers on the deal.
The acquisition of Jet.com is Wal-Mart's largest ever deal in the U.S. and marks a shift in tactics for the retailer, which has typically built operations from within over its history. Wal-Mart is betting that if anyone can help it catch up to Amazon, it's Jet.com founder Lore
Lore, 45, duked it out with Amazon as founder and chief executive officer of Quidsi, best known for Diapers.com, before a protracted price war and tight credit market during the Great Recession forced him to sell to his competitor for $550 million in 2010. After working for Amazon as part of that deal, he emerged with Jet in 2015 and a plan to challenge Amazon yet again.
Lore is "one of the smartest people in e-commerce" who will bring a new kind of thinking to Wal-Mart to help it transition to digital commerce, said Sucharita Mulpuru, an analyst at Forrester Research Inc. "Wal-Mart still struggles with things like third party marketplaces, which Marc and his team have successfully built."
It remains to be seen whether Jet.com's model can be scaled up and how long Wal-Mart will tolerate the business operating at a loss, said Brian Yarbrough, an analyst at Edward Jones & Co.
"Amazon is such a machine," Yarbrough said. "You aren't going to out-Amazon Amazon."
Date: August 09, 2016